Minor's Garden Center grows a large majority of our nursery stock locally at one of our nurseries. The Mequon Farm is the first farm we purchased and is the main farm for production. Because of the lack of space at the Garden Center, we mulch in evergreens and trees at the Mequon location; this ensures that plants such as spruce and pine can be spread out and maintain good quality.
Our plant stock is harvested and sold exclusively through Minor's Garden Center and Minor's Wholesale Supply Division on North 76th Street.
Mequon Nursery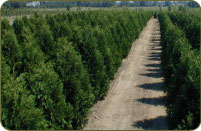 In 1976, the Mequon Farm, 10918 West Highland Road was purchased. The Mequon Farm has 70 acres, 60 acres of which are planted with shade trees, evergreens and ornamental stock. This farm was an old dairy farm with the house built in 1900 and the barn constructed in 1899. At the Mequon Farm you will see most of our mature evergreens, spruce, pine and arborvitate. We also grow all of our whitespire birch at this farm and have many younger shade trees planted there.
Highway 60 Nursery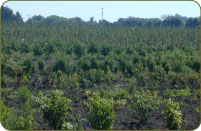 In 1989, the Jackson Farm, 1132 Hwy 60, was purchased. Planting started at this farm in 1990 with approximately 25 acres of shade and ornamental trees. Currently, the majority of our whips and shrub liners are planted on this farm.
Pleasant View Road Nursery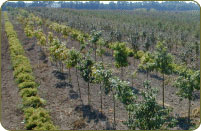 In 1995, the Pleasant View Farm, W148 N 12607 Pleasant View Drive, Germantown, was purchased. Approximately 30 acres are planted out with 3 and 4-year-old shade trees and shrubs in addition to smaller conifers.
Wausaukee Road Nursery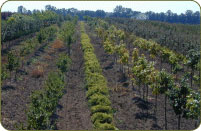 Also in Germantown, we have approximately 10 acres planted out of our 5-year-old plants. This farm contains mostly larger shade trees and flowering crabs.